Pioneer Pre-Age Staining
All Pioneer products come pre-age-stained ready to install
when they reach your site.
Age-Staining
A Two Step Process by Hand
We never spray stain to avoid the artificial appearance it leaves. Every
unique board is age-stained across sawhorses one board at a time.


This 2 step labor-intensive job covers all
Pioneer Log Siding both sides and edges.
During our extreme distressing process
below the board's surface, it's near impossible determine how much
stain will be needed until our completion.
Unlike Round logs needing constant Attention
Pioneer needs none, unless you want a fresh new look. But then again
why, it's Pioneer. The more Pioneer Log Siding ages the more
historically authentic it appears.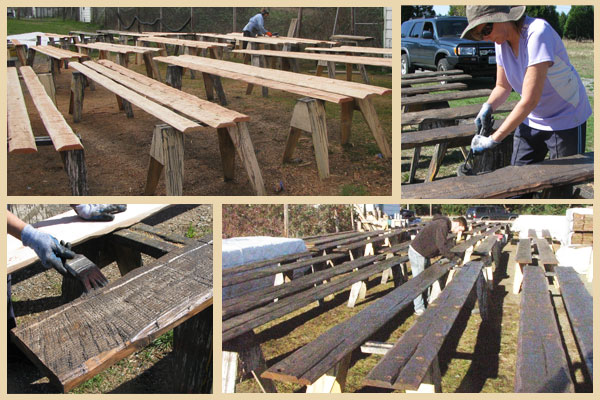 We don't offer 'raw unstained' log siding because:
Staining is part of the "secret sauce" that makes a Pioneer siding board
like no other board you'll find. Stain must be applied under the right conditions.
Since the labor cost is already built into the board price, let the experts stain it.


Stain material itself is paid by customer on final billing.

The Age-Staining labor is included in the cost but the gallons used are
not because, the pioneer boards are hand-hewn and distressed, deep below the
board's surface. There is no way to determine the amount of stain that will
be needed until the project is complete.
Six Stain Tones available
Charwood is our most popular for its historic appearance over time.
Click on a Stain Sample to see a Larger Image.